Lesson 1: Introduction to OWL
Outcomes
By the end of this lesson, you should be able to:
describe what OWL is and who can use it
demonstrate how to log into OWL and navigate the main pages
describe the differences between courses sites and projects sites
Introduction to OWL video [3 minutes]
What is OWL
OWL is Western's learning management system, which is home to online versions of the undergraduate and graduate courses offered at Western as well as courses from Western Continuing Studies and required training from Human Resources. OWL is a customized version of Sakai, the open-source learning management system by Apereo.
How to log into OWL
OWL is available to all Western users by going to owl.uwo.ca. Here you can log into OWL with your Western Identity or WCS account or OWL account.

Overview of Home and the OWL interface
Once you have logged into OWL, you will be on your Home site. If it is your first time accessing OWL, a tutorial will appear to describe the OWL interface.

Across the top of OWL, you will see a list of your sites and additional sites will appear in the top right corner in what's called the Sites drawer. Here you can search for particular sites.
You can pin frequently-used sites to the top by clicking the star icon beside a site's title. Tools will appear on the left side of each site and each site can contain different tools. The content of the site appears in the main area of the page. Here is an example course site: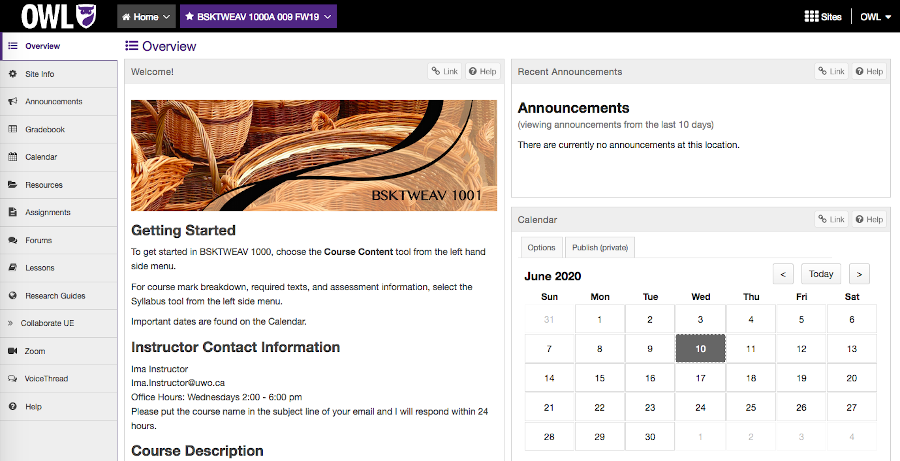 What is a site
Each area in OWL is called a site and a site consists of tools, content, activities, and participants. There are two types of sites in OWL: course sites and project sites.
Differences between course sites and project sites
The two types of sites in OWL, course sites and project sites, are essentially the same except for two main differences: rosters and roles.
Comparing course sites and project sites
Course Sites
Project Sites
Official rosters (from the Office of the Register or from Western Continuing Studies)
No rosters

Roles:

Instructor
Teaching Assistant
Student
Secondary Instructor
Grade Admin
Course Coordinator
Content Designer
Librarian

Roles:
The Maintain role corresponds to the Instructor role in course sites and the Access role corresponds to the Student role in course sites.
Both of the site types can use the same tools available in OWL.
The following lessons will guide you through building a course site including creating the course site, uploading files, configuring site settings, creating student activities, creating lessons, building community interactions, communicating with students, grading students, and providing you with the next steps as you create your online courses in OWL.
Please note: The following lessons can be used for creating project sites as well. The only differences will be to references to roles and rosters.